On August 17, 1979 Ronny and I purchased the Brule property now known as "Brule River Classics". For the past 38 years it has grown to be home and a retreat for so many. Now, it is time to retire.
From the bottom of my heart I wish to thank all the friends, acquaintances, and passers by that made our story a success and a joy.
On October 1st the new owners will begin their journey. Please welcome Sandra Rath and David Henderson. All prior reservations will be honored. The name "Brule River Classics" and the phone number 715-372-8153 will remain the same.
Perhaps I will see you on the river.
Sincerely Thank-You!
Chloe Manz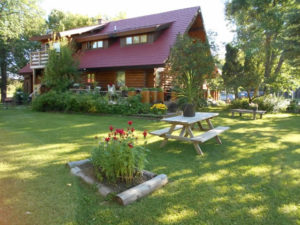 Welcome to Brule River Classics!
Located 1000 feet south of Hwy 2 on Hwy 27
nestled in the Brule River State Forest.
More than a bed and bath!
Four Season Resort!
Modern, quiet, and off the beaten path!
For reservations call 715-372-8153, chloe@cheqnet.net
Trout fishing guide: Cordell Manz - Fisheries biologist
who knows the rivers!
For guides on the Brule and White Rivers call: 218-591-1153
Snowmobile! Hike! Hunt!
Immediate access to the Corridor or hunting areas
in the Brule River State Forest
Excellent trails for horseback riding only one-third mile from the Bois Brule River.
Canoe, Kayak, Trout fish
Click here to rent a canoe or kayak at Brule River Canoe Rental!